What a great surprise our trip to Alaska was! For those that need more time in a day, the daylight was great... I seemed to have so much more energy, and sleeping was definitely not a problem.
We went to visit our son Lucas, whom is stationed in Anchorage, and his girlfriend Erin. Everyday was a new adventure, with a day trip to surrounding areas. We saw mountain goats, moose, a black bear and cub... we panned for gold, walked on a glacier, traveled Hatchers Pass, Independence Mine, Elmendorf Air Force Base, the Saturday Market, Seward, Palmer, Wassilla, dinner at the
Double Musky Inn
and on and on. They definitely showed us the area.
I honestly did not think that I would like Alaska. Am not your real outdoorsy type, no fishing, hunting, camping for me, but the scenery alone is well worth a visit. I absolutely loved Seward, it is a very artsy community which is right up my alley.
Speaking of artsy, I had to bring back a little something for me. In Seward, we visited a small but very well supplied yarn shop called A Flyin' Skein. There I purchased a small ball of Qiviut, made from Musk Ox by
Windy Valley Muskox
and a skein of sock yarn dyed by an Anchorage woman
Rabbit Ridge Designs
. I had to purchase another skein of sock yarn at the Saturday Market in Anchorage, where
The Felted Sheep
had a booth and was spinning her yarn. Also picked up the book Artic Lace, which is just grand!!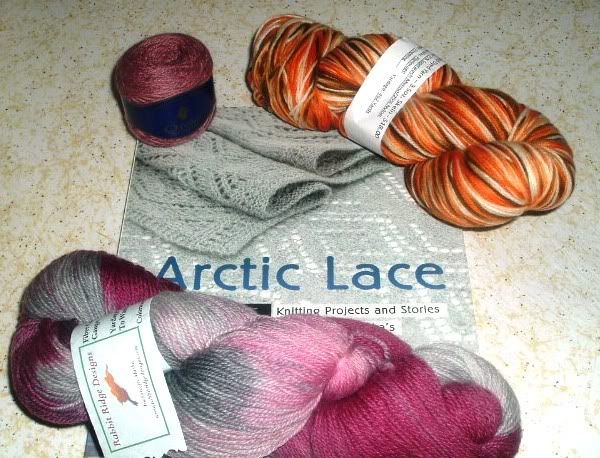 Anyone that gets a chance needs to visit Alaska at least once in their life! I will add more pictures later!